Te Āti Awa, Taranaki Whānui, Ngāti Toa Rangatira and Wellington City Council present
Te Hui Ahurei Reo Māori o Te Whanganui-a-Tara
I tū te hui tuatahi o Te Hui Ahurei Reo Māori o Te Whanganui-a-Tara i te tau 2022, hei kaupapa whakanui, whakamana anō i te tukunga o Te Pētihana Reo Māori ki Te Whare Pāremata, e rima tekau tau ki muri. I tutuki pai te kaupapa, ā, e pīrangitia ana e te hapori kia tū tonu te kaupapa nei, ko tā Te Hui Ahurei Reo Māori i te tau 2023 he rui purapura, ā tōna wā ka tino puāwai ai, ā ka tū ētehi whakaaturanga ā huri noa i te taone nei, hei kaupapa whakanui i Te Wiki o Te Reo Māori. Ko te manako ia, ka tipu te hui nei hei ngā tau kei te aroaro, ka tū ā tōna wā hei kaupapa āki i whakarauoratanga o te reo Māori ki Te Whanganui-a-Tara.

Toro mai anō ā te 11-17 o Hepetema. Taihoa ka puta ngā pūrongo.
The inaugural Te Hui Ahurei Reo Māori took place in 2022 as part of the commemorations of Te Petihana – the 50th anniversary of the presentation of the Māori language petition to Parliament. Following that Festival's success and calls from the community for it to continue, the 2023 Te Hui Ahurei Reo Māori looks to plant a seed for the future and will feature a small collection of arts events from across the City to celebrate Te Wiki o Te Reo Māori. The hope is that Te Hui Ahurei will grow in the years to come and will play a role in the revitalisation and celebration of Te Reo Māori in Te Whanganui-a-Tara.
Join us again this September from 11 - 17. More information to come soon.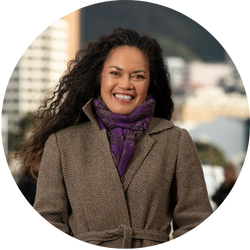 Mere Boynton
Director Ngā Toi Māori - Tāwhiri
LIVESTREAM: 2023 Ngā Kapa Haka o Te Matatini